juillet 19, 2023
Woman Finds Deadly Snake Slithering Into Kitchen Window: 'Abandon Ship'
While sitting in her lounge watching TV, Lisa Macca, who lives in Australia's Blue Mountains region, received a « not so welcome » visitor at her kitchen window. The guest was an adult eastern brown snake, one of the more venomous reptiles in the world.
« I heard the dogs bark their snake/lizard bark, » Macca told Newsweek. « It's different to their usual bark so I know when to come running. »
Smiling back at her was the deadly reptile. Macca quickly brought her animals and children inside and called her local snake catcher, Troy. « He was on his way to have dinner with his family, but he came here for me first, » she said. Troy quickly caught the snake and released it in some nearby brushland.
Eastern brown snakes have the second-most toxic venom in the world, according to the University of Melbourne's Australian Venom Research Unit. The venom contains a neurotoxin that shuts down a victim's heart, diaphragm and lungs, causing the person to suffocate. As a result, eastern brown snakes are responsible for more snakebite fatalities than any other species in Australia.
The species is found throughout eastern and southern Australia—hence its name. Its natural habitat also overlaps with some of the most populated areas in the country, so it is not uncommon to find them in people's homes.
Macca shared the incident in a Facebook post on Tuesday in the group View From YOUR Window.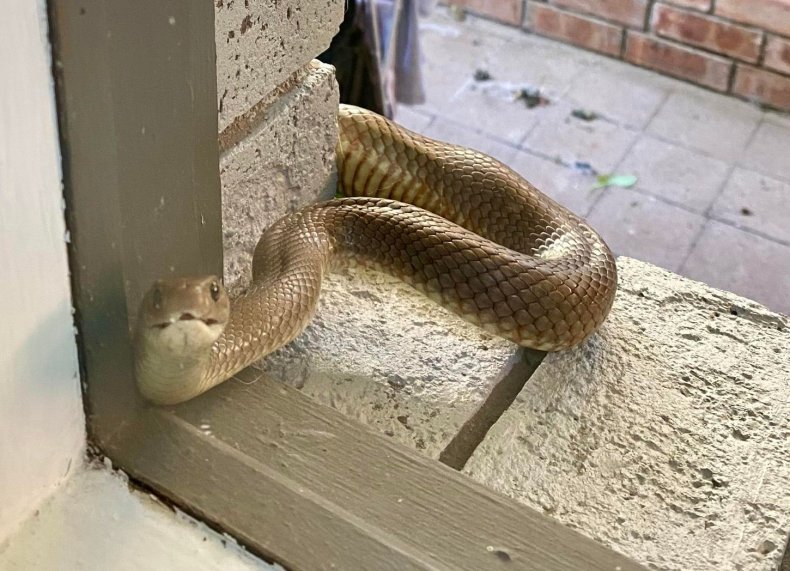 « A casual smile from the not so welcome visitor at my kitchen window, » she said in the post. « Just happens to be one of the world's most venomous snakes but mehhh he doesn't seem to care. »
She told Newsweek, « We live in the Blue Mountains [west of Sydney] and back onto national park bushland, so yes snakes are in the area. We for some unlucky reason have had upwards of 50 snakes here in the 11 years we've lived in this house. Mostly just yellow-faced whip snakes, some golden crowns, pythons and one juvenile eastern brown and this big eastern brown. »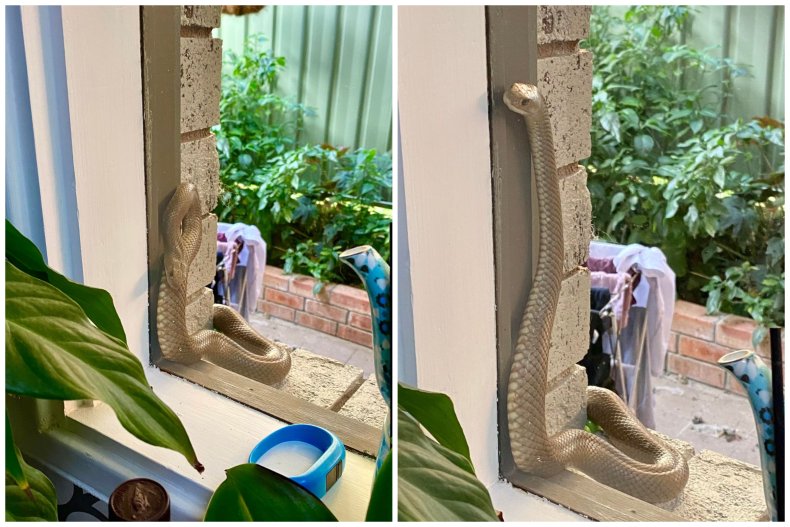 Macca's Facebook post has received over 17,000 likes and thousands of comments from shocked users.
« Ahhh, he wants to be housemates, » wrote one. « Abandon ship! » said another.
Despite their fearsome reputation, the snakes are fairly docile and will bite only if they feel threatened. Still, if you ever find one of these reptiles—or any venomous snake, for that matter—you should always call a professional.