août 17, 2022
Tory leadership candidate Poilievre swings through Essex County to firm up support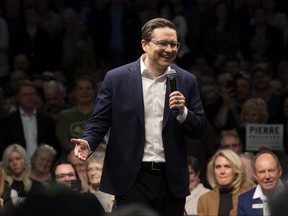 Federal Conservative leadership candidate Pierre Poilievre began a swing through Southwestern Ontario Tuesday with a stop in Essex County promising to dump the ArriveCan app and all border mandates, while also expressing support for the electrification of the auto industry.
Poilievre, who was also stopping in Sarnia and London later in the day, has established himself as the favourite in polling to win the party's top job in the Sept. 10 vote.
"We need to get rid of the ArriveCan app and the vaccine mandates because there's no science behind either," Poilievre said. "All they're doing is gumming up the border and increasing costs.
"We need to streamline and simplify crossing the border, so that goods and services can go back and forth with as little obstruction as possible.
"Otherwise, it's going to harm our workers and costs will get passed down the line."
It's Poilievre's second visit in three months to the area, which Conservatives feel is receptive to political change after witnessing the election of two Progressive Conservative MPPs for the first time since the 1960s in June's provincial election.
Currently, the riding of Essex is also represented federally by two-time Conservative MP Chris Lewis.
Making it easier and cheaper to live, move goods and people and lure business were the themes of Poilievre's remarks.
"People can't afford to live anymore," said Poilievre of what message local residents are giving him. "Thirty-five-year-olds living in their parents' basements.
"Food prices are up 10 per cent year over year, which means people are cutting back on their diets and reducing their nutrition.
"The government's inflationary policies have driven up the cost of living."
Poilievre said Canada needs to address the cost of doing business in this country by dealing with rising taxes, energy costs, productivity and the approval process for development.
"The problem is it's very hard to get anything done in Canada," Poilievre said.
"We rank 64th in the world for the time it takes to get a building permit. We have not only high business tax, but also carbon taxes and rising payroll taxes that make it expensive for business to hire workers."
Poilievre added making it easier to access Canada's abundant store of critical minerals for the auto and battery industries, along with reducing energy costs, will be the key to luring electric vehicle production.
"We have to bring down those input costs to bring the electric car manufacturing jobs back to this country," Poilievre said.
Poilievre feels his criticisms of red tape and bureaucratic approval processes are a significant reason why Canada is facing a housing crisis. He plans to incentivize big cities to build more housing by attaching federal infrastructure grants to their success in doing so.
Poilievre also is proposing any new transit stations getting federal dollars must have pre-approved permits to add housing in proximity to the station to encourage high-density development and transit usage.
"We have the fewest houses per capita of any country in the G7 and we have the most land to build on," Poilievre said.
"We need to get the government gatekeepers out of the way and let builders build."
In addition, Poilievre feels the federal government can sell off 15 per cent of its underutilized buildings for conversion into residential use.
To help address the labour shortage in the construction trades he also proposes fast-tracking immigrants with the required skills.
dwaddell@postmedia.com
twitter.com/winstarwaddell
Sign up to receive daily headline news from the Windsor Star, a division of Postmedia Network Inc.
By clicking on the sign up button you consent to receive the above newsletter from Postmedia Network Inc. You may unsubscribe any time by clicking on the unsubscribe link at the bottom of our emails. Postmedia Network Inc. | 365 Bloor Street East, Toronto, Ontario, M4W 3L4 | 416-383-2300