juillet 18, 2023
This $80 Fractal Design PC case is half-price on Newegg right now
Do you want a PC case for $40 plus shipping? So $53? Yeah, no, yeah? Well, anyway, Fractal Design's Focus 2 RGB is selling for that much on Newegg, when it normally costs like twice that, plus shipping, so like $93. That's $40 less, remember.
It's a pretty cool case too, that supports full-size ATX motherboards, comes with two 140mm RGB fans up front, fits up to 360mm/280mm radiators and looks pretty neat as well. Let me tell you a bit more about it?
Right, so. I looked at some reviews of this case as I've not used it myself, but I will say that I've used and recommended the Fractal Design Meshify series of cases on many occasions and have never been let down.
So this Focus 2 is a normal size, with a normal layout, and doesn't do anything super crazy with its feature set. There's an integrated RGB controller, which is nice and of course vibes with the included fans, and a fairly regular assortment of front panel I/O, including two USB-A 3.0 ports and separate headphone/microphone 3.5mm ports. Annoyingly, there's a space for USB-C, but you need to purchase this cable/port separately. What's that about?!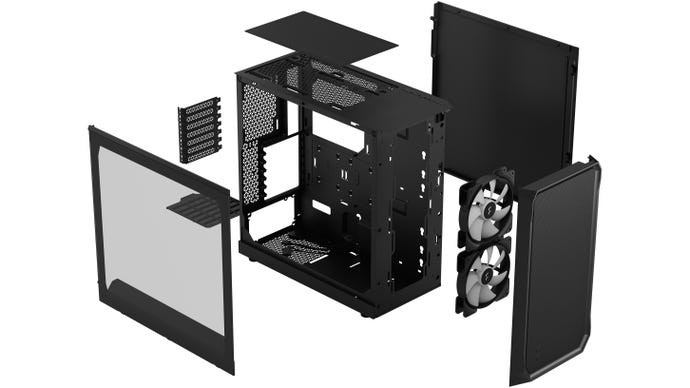 I like that there's a mesh panel up front though, allowing the front fans to actually receive airflow, unlike the surprisingly common « solid front panel » approach. The top and bottom intakes are also filtered to prevent dust ingress. Weirdly, there's no full-sized shroud to separate the PC into two chambers – one for the PSU and your cables, one for the rest of your components – but there is a kind of metal visor that blocks off visual access to the bottom of the case, which could be useful if you wanted to put taller components like a pump down there, but feels like a cost-cutting measure otherwise.
If you're happy with some wires being visible though, there's little else to really complain about here. The vented design works well to achieve a solid mix of temperatures and noise, build quality is solid and there's plenty of room for components and cables. All in all, it's a solid case and well worth considering at this bargain basement price point.