juin 28, 2023
SpaceX conducts six-engine test fire as it gears up for second Starship flight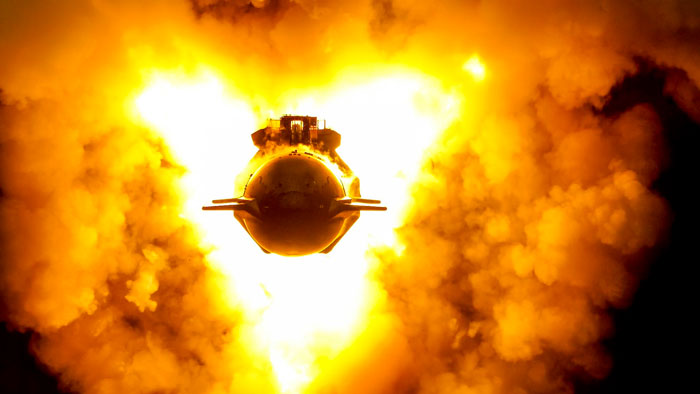 SpaceX conducted a six-engine static test fire on Monday of the Starship vehicle that will eventually be paired with a Super Heavy booster for the second test flight of the company's fully-reusable launch system.
The six Raptor engines at the base of the Starship vehicle were ignited for about six seconds at 7:27 p.m. CDT (0027 UTC) on Monday, June 26. The firing took place at SpaceX's Starbase facility in south Texas, on one of the so-called sub-orbital launch pads, close to where the first Starship/Super Heavy vehicle launched on April 20.
SpaceX founder Elon Musk said in a Twitter post, the firing was a "key milestone completed for flight two."
SpaceX hopes the fully-reusable Starship will lower launch costs and enable missions to the moon and Mars. A version of the Starship was selected by NASA in April 2021 as the landing vehicle that will carry astronauts to the surface of the moon on the Artemis 3 mission. SpaceX also intends to use Starship to place thousands of next generation Starlink satellite into orbit.
Musk said in an interview on Saturday that more than a thousand upgrades were planned before the next flight of the Starship/Super Heavy. Including a significant change to the stage separation system that will see the Starship ignite its engines while still attached to the Super Heavy. Improvements are also being made to the Raptor engines to prevent leaks of super-heated gas which resulted in multiple engine failures during the April launch.
Major repair work and modifications are also underway to the Starship launch pad, after extensive damage occurred during the April 20 test flight.
Ship 25 completes a six-engine static fire test at Starbase in Texas pic.twitter.com/wCCrh0RRNA

— SpaceX (@SpaceX) June 27, 2023
The Starship used in Monday's test, designated 'Ship 25', is expected to be attached to Super Heavy 'Booster 9' for the second integrated test flight.
On Saturday, Musk estimated the launch pad, Starship and Super Heavy could be ready to support a second launch in about six weeks. What's unknown is how long it will take the Federal Aviation Administration to approve a second flight. FAA officials are still investigating the events of the inaugural launch, including the apparent failure of the Automated Flight Termination System to promptly destroy the booster when it tumbled out of control.