juin 21, 2022
Russian Ships Off Ukraine's Shore Preparing for 'Massive' Missile Launch
Russia is reportedly preparing to launch a « massive » missile attack on Ukraine from the sea.
Six Russian ships carrying cruise missiles were positioned in the Black Sea and were « most likely preparing for a massive launch of missiles on the territory of Ukraine » as of Monday, according to Ukraine 24. The Ukrainian South Operational Command said that « permanent missile ships » in the area had recently been reduced due to the Ukrainian military's « actions » being « very disturbing to the enemy, » according to Ukrainian state media agency Ukrinform.
Ukrainian forces also warned that « Russian propagandists » were « increasingly spreading fake news stories about damage to airdromes and other critical, strategic and military infrastructure facilities in the region. »
The Ukrainian military said Monday that a food warehouse had been destroyed by a Russian missile attack on Odesa, the country's largest port on the Black Sea, according to Reuters. There were no reports of any civilian deaths. Russia's Black Sea Naval fleet includes three missile-carrying surface ships and three underwater missile carriers, according to Ukrayinska Pravda.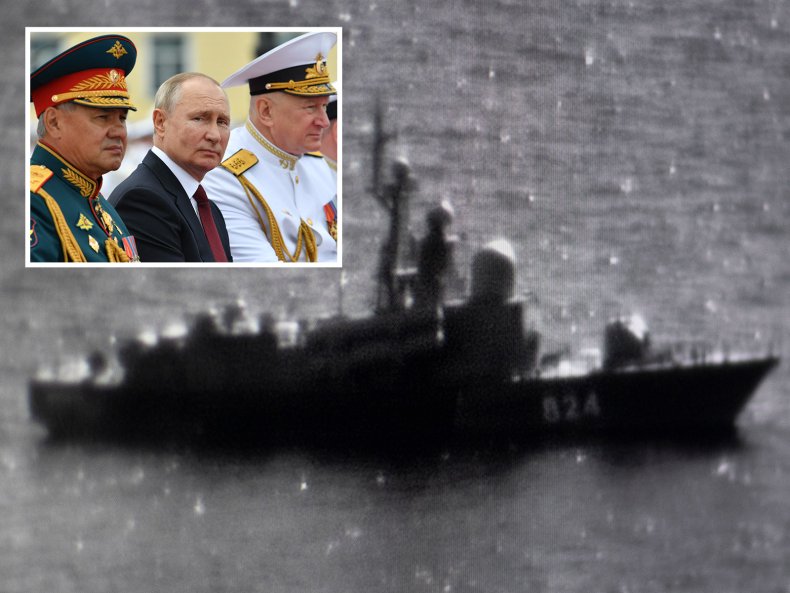 Russian Defence Ministry spokesman Igor Konashenkov reportedly said on Sunday that a long-range cruise missile attack on a Ukrainian military installation in Dnipropetrovsk had succeeded in killing top officers including generals. On Monday, Russian officials said that Ukrainian missiles struck three offshore gas platforms in the Black Sea.
Last week, the Ukrainian military tweeted that the Russian tugboat « Spasatel Vasily Bekh » had been « successfully demilitarized » in a missile strike while it was « transporting personnel, weapons and ammunition to the occupied Snake Island » in the Black Sea. Officials said that U.S.-made Harpoon missiles were used in the strike.
The strike came just after the U.S. Department of Defense announced a new $1 billion aid package for Ukraine, including two Harpoon coastal defense systems. Harpoon missiles have also been sent to Ukraine by Denmark.
Ukrainian President Volodymyr Zelensky has repeatedly urged Western countries to send more military equipment and supplies as the war with Russia nears its three-month mark.
« We need your support, we need weaponry, weapons that will have better capabilities than the Russian weapons, » Zelensky said on Monday during an event organized by the think tank ISPI in Milan, Italy, according to The Los Angeles Times. « This is a matter of life or death. »
Meanwhile, Russian officials have cautioned Western countries against continuing to supply aid to Ukraine, threatening to broaden the scope of the war if the country is supplied with long-range missiles. Last week, a former Russian military official warned of a « potential nuclear conflict » with NATO.
Newsweek reached out to the Russian government and Zelensky's office for comment.