août 9, 2022
Alberta cabinet minister shifts allegiance to Danielle Smith after endorsing Travis Toews
Publishing date:
Aug 08, 2022  •  3 hours ago  •  1 minute read  •  7 Comments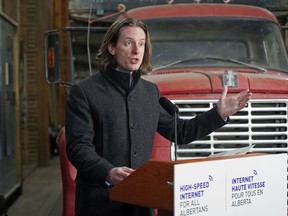 Service Alberta Minister Nate Glubish has shifted his allegiance to UCP leadership candidate Danielle Smith after previously backing former finance minister Travis Toews for premier.
Glubish, who is the UCP MLA for Strathcona-Sherwood Park, said in a statement to Postmedia that he believes under Smith's leadership the province will be able to modernize how it delivers services like health care and government registries.
"From talking to Albertans, I know that this is an important priority because they have all experienced frustration dealing with government. We need to deliver better services, faster, and for less money," he stated.
In a news release Monday, Smith's campaign pitched a plan for a digital production tax credit to encourage more investment in the local video game and digital media industries, but did not offer specifics.
Glubish said the policy "is good news for Alberta."
His move follows that of UCP backbench Lesser Slave Lake MLA Pat Rehn, who also shifted his support from Toews to Smith. After his campaign came out of the gates with 23 endorsements from UCP MLAs, including several cabinet ministers, Toews was labelled the establishment candidate.
To date, Lethbridge-East MLA Nathan Neudorf, Airdrie-Cochrane MLA Peter Guthrie and Calgary-Falconridge MLA Devinder Toor have thrown their support behind Smith, the former Wildrose leader.
In a social media post, Smith welcomed Glubish to her campaign and said they are both passionate about growing the province's tech sector.
Glubish said in a July statement from the Toews campaign that he was supporting Toews for leader.
"He is smart, strategic, and compassionate. Most importantly he is a man of good character and integrity. I'm confident that Travis will make an excellent premier, and will serve Albertans well," he said at the time.
Meanwhile on the campaign trail, fellow UCP leadership candidate Rebecca Schulz announced in a Monday tweet Calgary Midnapore Conservative MP Stephanie Kusie will serve as campaign co-chair along with former Conservative Party of Canada leader Rona Ambrose, who officially joined in early July.
Edmonton Journal Headline News
Sign up to receive daily headline news from the Edmonton Journal, a division of Postmedia Network Inc.
By clicking on the sign up button you consent to receive the above newsletter from Postmedia Network Inc. You may unsubscribe any time by clicking on the unsubscribe link at the bottom of our emails. Postmedia Network Inc. | 365 Bloor Street East, Toronto, Ontario, M4W 3L4 | 416-383-2300